Our advanced capabilities with regard to the reconstruction of dynamic multi-axis
responses in laboratory test rigs, fatigue analysis and field measurements in
combination with our extensive hydraulic and electrodynamic test infrastructure
uniquely positions us to serve industry with key capabilities such as accelerated
full-scale fatigue testing, component fatigue testing, static testing, shock
and vibration testing.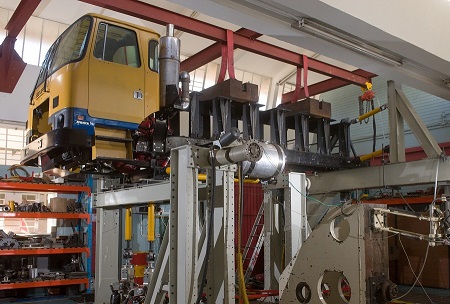 Expertise
Durability testing (dynamic or quasi-static), of:
Full-scale structures (e.g. road simulators).
Sub-systems.
Components (e.g. springs, shaft steelwork).
Static strength testing.
Vibration tests: sine, sine-on-random, random, etc.
Shock tests: half-sine, terminal saw tooth, SRS, complex pulses, etc.
Automotive noise, vibration and harshness (NVH) testing.
Response reconstruction (time waveform replication): Reconstruction of dynamic, multi-axial responses in laboratory test rigs.
Field measurements of normal operation fatigue analysis and spectral analysis to characterise the mission profile from field measurements.
Design of a laboratory test routine to be as representative as possible of the mission profile.
Equipment and Software
Universal testing machines: 40 kN, 100 kN and 630 kN (Instron).
Approximately 20 servo-hydraulic actuators, ranging from 6 kN to 250 kN.
Large hydraulic servo-valves for high speed testing.
Approximately 20 PID servo-controllers (Kelsey K7500, Zwick-Roell Cubus, Instron Labtronic 8800, Moog).
280 bar hydraulic supply, approximately 500 lpm maximum flow.
Variable pressure and flow rate hydraulic test bench (up to 90 lpm).
Electrodynamic shaker (100 kN peak load, 50 kN RMS load).
Slip table: ETS GT1000M (1000 x 1000mm).
8m x 9m isolated test floor with slotted base.
Various smaller test tables.
Sophisticated dynamic test software (StrucTEST i3): dynamic modelling and reconstruction, fatigue, data compression, shock and vibration.
Relevant Standards
MIL-STD-810, MIL-STD-167-1A, BS EN 61373, BS EN 13749, etc.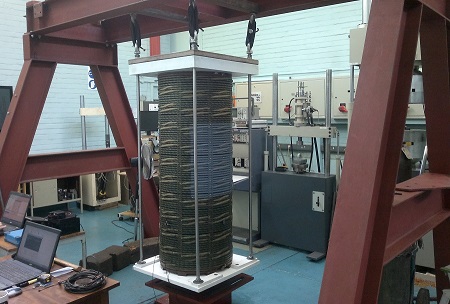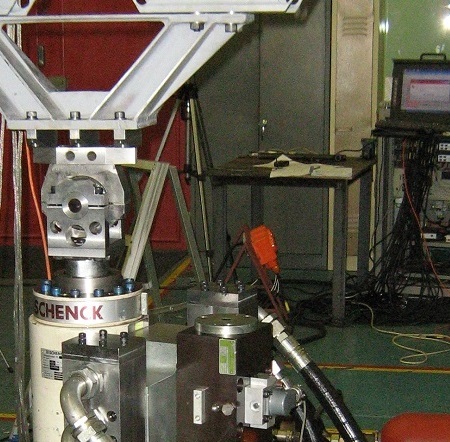 Clients and Typical Projects
Our typical clients include companies that design, develop and manufacture aeronautical components, automotive companies and parts suppliers, rail equipment manufacturers, defence equipment manufacturers, mining companies and mining-related equipment manufacturers.
Full-scale structural integrity tests:
Class 8 heavy vehicle accelerated road simulator fatigue test.
Shock and vibration tests.
Component structural integrity testing:
Class 7 heavy vehicle accelerated cab road simulator fatigue test.
Train locomotive bogie fatigue tests.
Helicopter rotor tension member fatigue tests.
Helicopter nose structure vibration simulation test.
Component vibration and shock tests:
Ship-borne electronic components.
Periscope components.
Lining panels of new cargo aircraft.
Helicopter-based observation and targeting systems.